Natural Handmade Soap Product details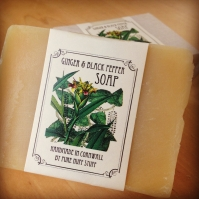 Product by:
Pure Nuff Stuff


Pure Nuff Stuff is about feeling relaxed and pampered the natural way. We have a large range of Natural Handmade Soap designed for any skin conditions or flavour preferences.
All of our Natural Products and Eco Soaps are SLS and paraben free. Also they're all Vegetarian and Vegan friendly - so they can be used by almost anyone on any lifestyle.
Our soaps are skilfully hand made in our workshop. They are made by using the cold process and this will help retain all the natural goodness of the glycerine. What we end up with is a rich and mild lather that will rinse and wash away without tightness or dryness.
If you've ever been sceptical about trying out a Green Skin Care regime, then try starting with any of our Natural Handmade Soap and you'll notice a definite difference.
Please use the Contact form on the right for Natural Handmade Soap information and ordering.