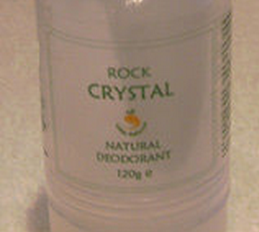 Product by:
Go Green Online Shop


At Go Green online store, we have a large variety of eco products. One of our best selling remains to be our Natural Crystal Deodorant.
It's a crystal formation of 100% mineral salt from the arms of mother nature. All the Natural Ingredients are found have been used for centuries in history as a renewable source for deodorant.
This is an essential item to Eco Skin Care and hygiene. It's great for those with allergies as well as it contains no alcohol, emulsifiers, perfume or anything man-made, processed.
This amazing product also has other uses. It can be placed inside the fridge to eliminate bad food odours. It's great for getting rid of foot odours and can even be used to calm insect bites.
Please use the Contact form on the right for Natural Eco Friendly Deodorant information and ordering.