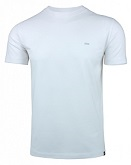 Product by:
Bamboo Clothing


This is the best T-shirt to wear for an athlete's men that like to wear fitted t-shirt when going to work out, it is a great and comfortable T-shirt anywhere you go, Men Bamboo T-shit has a great BAM Fabric for moisture winking to keep you away from smelly odour. It is made by (28% Organic Cotton, 4% Elastane and 68% Bamboo Viscose). It comes in S, M, L, X-L and XX-L sizes. And it's washable.
It has the Bam garments that can make you more comfortable in any weather because of its cellulosic structure. Men Bamboo T-shirt was the best softest and comfortable T-shirt you can get!
Bam Clothing is an eco friendly fabric because it is made from a natural organic bamboo.
• Bamboo is 100% naturally grown in non polluted areas. And not using any chemicals.
• Bamboo mainly grows in natural amount of water from the rain and no extra water required.
• Bamboo grows in high density which means a perfect land size for bamboo.
Please use the Contact form on the right for Men Bamboo T-shirt – White information and ordering.