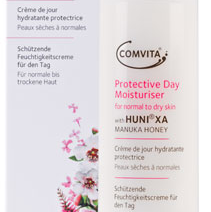 Product by:
The New Zealand Honey Shop


Here at the New Zealand Honey Shop, we are not only in love with our Honey, but also our Manuka Honey Skin care products.
New Zealand has a wonderfully clean green environment for producing fantastic Natural Products.
The New Zealand Honey Shop is your one stop source to discovering and experiencing the unique healing properties and health benefits of Manuka Honey.
Manuka Honey is one of the greatest natural remedies for skin problems and is a good component to any Green Skin Care system. It is moisturising, nourishing and helps protect your skin from free radical damage as it is high in antioxidants and has anti-bacterial properties.
All our Skin Care Products are free from any parabens, sodium lauryl sulphate, anything artificial or GM. Th ingredients are all from natural and sustainable sources with no animal testing guaranteed.
There are three parts our Manuka Honey Skin care range, with products for Normal, Dry and Oily Skin.
Please use the Contact form on the right for Manuka Honey Skin care information and ordering.