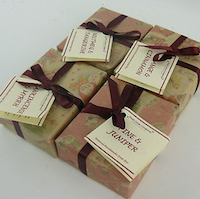 Product by:
KittySoaps


Here at the Kitty Soap Shop, we specialise in Luxury Eco Soaps and Beauty Products at discount prices.
One of our favourite products is our Christmas Natural Handmade Soap. It is an ideal gift for Christmas as comes in wonderful festive fragrances and nicely wrapped with vintage Christmas paper.
It is handmade from scratch in Britain.
These soaps are made from all natural, high quality vegetable oils, butter and pure essential oils. Natural ingredients are vital to any Environmentally Friendly Skin Care system and this Natural Soap works wonders on any skin types.
They are free from SLS, petrochemicals, parabens, artificial colours and fragrances.
These Luxury Eco Soaps also come in different flavours to suit everyone:
• Nutmeg and tangerine
• Frankincense and myrrh
• Pine and juniper
• Orange and cinnamon
Please use the Contact form on the right for Luxury Eco Soaps information and ordering.