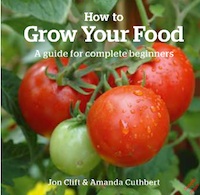 Product by:
Greenbooks


How to grow your Food, by Jon Clift and Amanda Cuthbert, is a beginners guide to start growing their own Fruit and vegetables.
There are many benefits to knowing How to grow your own Food and actually doing it:
It helps achieve stronger community ties, improve your quality of life and your life expectancy and encourages sustainability.
This is a comprehensive step by step book about domestically grown food at your own backyard. That means fresh and organic, combined with low carbon footprint.
It doesn't matter if you know nothing about gardening. This book will sort you out and give you the confidence and guidance you need.
It's available right now at the Green Books Guide.
Please use the Contact form on the right for How to grow your own Food information and ordering.