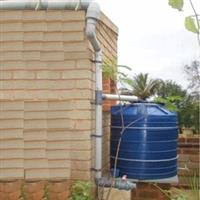 Product by:
OASIS rainwater harvesting


At Oasis, we make Rain Harvesting simple, cheap and green. With our High Quality Fibreglass Rain Water tanks, you'll be saving money on your water bills fast.
Unlike many other companies, we make our tanks from Fibreglass which does not does not distort and bend under pressure. We don't only have UK made Oasis water tanks in supply, we also stock high quality German water tanks too.
Our Oasis Rainwater tanks are simple to use and even more simple to install. They come in one piece - not two like many of our competitors. This means that there are less risks of leaks and splits over time.
The long durability our OASIS High Quality Fibreglass rain water tanks is because to this one-piece engineered design. All our OASIS rainwater harvesting tanks are supplied with a standard child safe screw on lid.
Our tank sizes comes in: 1500 L, 2800 L, 3600 L, 4500 L, 6000 L
Please use the Contact form on the right for High Quality Fibreglass rain water tanks information and ordering.