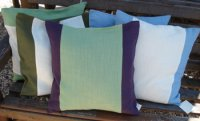 Product by:
Drapersorganiccotton


Hemp Pillow Case is designed to work together and with the plain Cushion colours of the same colours, giving a gorgeous effect.
They also approve our tableware and Curtain panels for that finishing touch.
Their hemp pillow case feel so soft and cool to the touch, with hide zips to the back.
The back is simple using the side striped colour in case you fancy a change.
Hemp is naturally one of the greatest ecologically friendly fabrics.
It is renewable and Biodegradable resource that grows well without pesticide.
It is the most resourceful crop and as such has been civilized for thousands of years.
The fibres being famous for their strength and durability, whist the seeds are exact nutritional source of protein as well as a providing other health and practical uses.
Hemp is a stylistic naturally attractive fabric that can be produced in various weights so s great for the finest of apparel to heavy duty upholstery.
This is naturally UV resistant and absorbent, and known for its anti-bacterial, anti-mould and isolative qualities.
This Pillow case was so soft and has a modern elegance.
Please use the Contact form on the right for Hemp Pillow Case information and ordering.