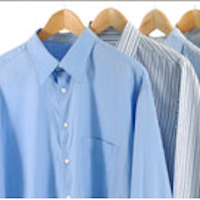 Product by:
Harpers Dry Cleaners


Harpers Cleaners is committed to making an impact with our Environmentally Friendly dry cleaning services.
We use Green innovation like The Hydrocarbon process because it is less aggressive than traditional dry cleaning liquids and chemicals. Also, it's better for our health, skin and our Environment.
The best thing is, you can actually feel difference with our Hydrocarbon Cleaning. It is safe to use on all fabrics - even items as delicate as wedding dresses.
It gets all dirt and stains off gently and leaves your clothes wonderfully soft.
We are also one of the first Green and Environmental Dry Cleaning groups invest in solar energy technology. Yep, that's right - we're for clean clothes and a clean environment.
Please use the Contact form on the right for Green and Environmental Dry Cleaning information and ordering.