Green Hybrid Toyota Prius Product details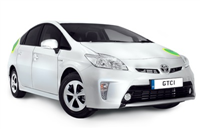 Product by:
Green Tomato Cars


Green Hybrid Toyota Prius is the most advanced hybrid vehicle available today.
It is perfectly switches between a petrol engine and Electric motor depending on the driving conditions.
This means silent electric travel in distinctive London traffic and ultra low emissions.
Features:
• 2 big case
• 4 Passenger
• FREE WIFI
• Sat Nav
• 89 g/km- co2
• Hybrid
• Air-con
• Professional Driver
With loads of legroom, Climate Control and FREE Wifi on board, the Green Hybrid Toyota Prius is the obvious choice to make your way around London.
Please use the Contact form on the right for Green Hybrid Toyota Prius information and ordering.