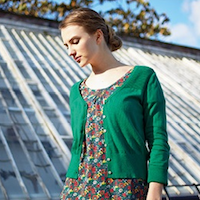 Product by:
Seasalt Cornwall


At Seasault Cornwell, we are happy to introduce to you our Garden Inspired Fashion. This is our Women's Autumn / Winter 2013 Clothing collection, inspired by our passion for Green Fashion and the natural charms of the amazing Heligan Gardens and Mevagissey harbour.
Our designs features the bright colours and lovely patterns of both these places. The soft feminine floral colours and prints were influenced by the lush green valley at Heligan. The strong, bold geometric patterns, classic stripes and nautical touches were inspired by the beauty of Mevagissey harbour.
You'll find elegantly simple dresses, classic striped tops, colourful knit cardigans, soft pastel chinos, Bamboo tops, velvetly jackets and even waterproof coats.
We hope you love our Garden Inspired Fashion as much as we do.
Please use the Contact form on the right for Garden Inspired Fashion information and ordering.