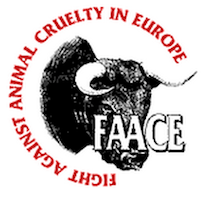 Product by:
Fight Against Animal Cruelty in Europe


FAACE is one of the most active Green Organisations in the UK who works towards the Ethical treatment of animals and putting up a Fight Against Animal Cruelty.
We began this group to fight against cruelty that the Spanish animals have to endure during a Blood Fiesta or Bullfighting round.
Throughout the years, we have made a lot of progress and our hard work has saved many victims.
A number of these Blood Fiestas have been banned as a result of our work:
Throwing live goats from the tower at Manganeses De La Polvorosa stopped in 99.
Chicken killing at Nalda stopped in 93.
Algete stopped live castration of the bulls.
Many villages in the regions of Salamanca/Zamora stopped cock killings.
All chicken fiestas have stopped since 2003.
Please use the Contact form on the right for Fight Against Animal Cruelty information and ordering.