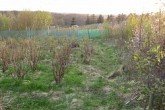 Product by:
Ecology


Ecology is committed to lending that protects the Environmental and helps build a greener society.
That's why they provide mortgages to support and develop Organic farming and Smallholdings, where organic accreditation has been applied or granted.
Ecology mortgages for organic farms and smallholding support:
• The buying of an organic farm or additional land for expansion
• Building additional accommodations such as roadside shops
• Building residential facilities on an existing organic farm, even when Agricultural restrictions apply.
Ecology organic farm and smallholding mortgages will give you great deal over the long term, not just for the first couple of years.
They Keep their fees as low as possible and recommend a flexible independent service.
Please use the Contact form on the right for Ecology -Mortgages-Organic-Farm-and-Smallholdings information and ordering.