Eco Water Tanks Product details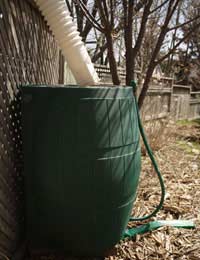 Product by:
Sustainablestuff


Water is becoming more and more expensive these days. Conserving water does not only help protect our natural resources, but also saves you money.
One of the simplest ways to conserve water is to use Water Saving Devices to collect rain water and re-use it. An Eco Water Tank here can do the job. You can start by placing any container under your guttering system (so when it rains, the rain will fall into the container).
The collected rainwater can be used for many household activities:
• Washing the car
• Watering the plants
• Cleaning the driveway
Recent research has shown that plants grow better with rainwater compared to tap water. One of the reasons for this is that rain is filtered naturally and contains none of the chemicals and minerals that you can find in tap water. So Rainwater Harvesting isn't only good for your pocket, but it's great for your plants too.
Please use the Contact form on the right for Eco Water Tanks information and ordering.