Eco Recycle Bag Grips Product details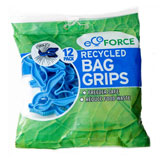 Product by:
EcoForce


When considering the flexibility of the peg in Association with the stylish moulding that Eco Force perfected, a recycle Bag grip looked the logical next step.
Eco Recycle Bag Grips is surely the most irritating things in a busy life, Cleaning split peas from the bottom of your freezer or untying knotted plastics to get whatever might be inside.
The Eco Force Recycle plastic bag grips are the best grips can be used on almost any bags.
Features:
• frost Proof
• No Rush or Stains
• Easy to Store
• Dishwashing Proof
• Easy to use attach or Detach

Please use the Contact form on the right for Eco Recycle Bag Grips information and ordering.