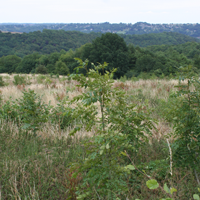 Product by:
Greenwood Forest Park


All the wildlife surveys at GreenWood indicate that we have an increasing range of local flora and fauna. We are proud to announce that the Biodiversity, Environmental Management and habitats of our park has improved since we opened.
One of the reasons for this is because we take extreme pride and care into the environment.
Every year, we plant trees, construct ponds and other habitats for the animals. This encourages more animals to come and breed here.
We even have otters have visiting sometimes. To encourage their return, we have built them a brand new home.
We are proud of our eco park and forest.
Our Ecological and environmental efforts have been recognised as we are the bronze members of the North Wales Wildlife Trust.
Please use the Contact form on the right for Eco Park and Forest information and ordering.