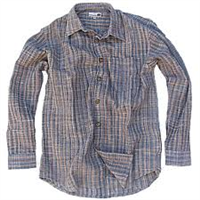 Product by:
From The Source


Eco Long sleeved men's shirt in a grey striped design.
It is made in organically grown Cotton, hand spun, naturally dyed, hand-woven and fairly traded.

This is a long-lasting and soft natural Fabric that is produced using traditional spinning and weaving techniques in rural Laos, finished with coconut shell buttons.
It is Unique From the Source, Handmade cotton used to makes for a hard wearing and tactile men's shirt that softens when you washed.
It is simply like your favourite pair of jeans, the colour will fade over time and small amount of shrinkage may occur as the fabric is not pre-shrunk.
As the hand-woven cotton is produced in small consignments we only have a very limited number of this shirt - making it a truly unique product.
In your first wash, wash it separately; it is machine washable in low temperature.
Please use the Contact form on the right for Eco Long Sleeved Men's Shirt information and ordering.