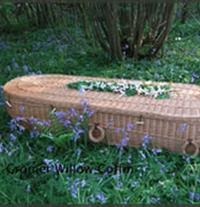 Product by:
Natural Endings


At Natural Endings, we are Eco Funerals Specialists and we offer Green Coffins and Natural Burials services. We are experienced specialists for Environmentally Friendly Funerals and Natural Burials in the Manchester, Cheshire, Merseyside and South Lancashire regions.
We also have a huge range of eco-coffins. They are made from 100% sustainable materials such as cardboard, willow / wicker, bamboo, seagrass and untreated wood.
At the heart of our group is a deep desire to help families bring peace to their loved ones and to have a beautiful, unique and fitting farewell. We give a very personal and professional service. We take the time and effort to gain an understanding of you and your family's values.
As Eco Funerals Specialists, we work closely with you to fulfil your ideal funeral or to offer appropriate suggestions The farewell and goodbye can be filled with love, pride and hope as well as acknowledgment of your loss.
Please use the Contact form on the right for Eco Funerals Specialists information and ordering.