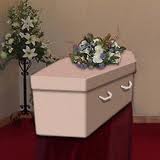 Product by:
Green Endings


Here at Green Endings, we have a variety of coffins made from all Natural materials.
They come in a choice of:
• Bamboo
• Wicker
• Cardboard and papier mache.
The wood that is used for our more traditional coffins comes from sustainable and managed forests.
We also have a range of urns.
Our Eco Coffins and Urns are ideal for designed for Environmentally Friendly humanist funerals.
Our urns are made from sustainable and high quality materials: bamboo; reed; wood; glass and ceramic.
Please use the Contact form on the right for Eco Coffins and Urns information and ordering.