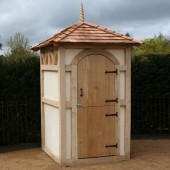 Product by:
Sylvantutch


Here at Sylvantutch, we're not only a furniture business, we also offer Eco Education and Green Training in furniture making.
Because we're serious and passionate about the environment, we'd want to share our love and knowledge with the community. In turn, we hope this will spread the word about the importance of our natural resources.
Our successful Eco Carpentry Courses have influenced hundreds of people with no carpentry experience at all to appreciate the techniques behind furniture making and inspire them to put together their own creations.
The course focuses on the artistry behind rustic furniture, the equipments and how to use them and how to recognise sustainable UK materials.
Please use the Contact form on the right for Eco Carpentry Courses information and ordering.