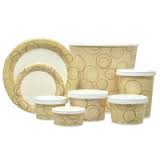 Product by:
Octopus Packaging Ltd


Here at Octopus Packaging, we have a wide range of Compostable and Biodegradable Packaging products and materials.
This includes: biocompostable plastic packaging films, printed and metalised materials, Biodegradable Food Packaging, everyday Green Packaging products for industrial, domestic and kitchen uses...and more
All our compostable and Environmentally Friendly Packaging materials made and produced from 100% natural and sustainable sources that are not oil based and completely carbon neutral. We have have Din Certco approval for many of our items and many of our products are made Natureworks materials.
Our Compostable and Biodegradable Packaging includes things like:
Plain or printed bags, lined cardboard boxes, Thermoformed or Injection Moulded items, Pallet wrap, cling film and stretch wrap, Metallised PLA and Barrier PLA Film and so much more.
Please use the Contact form on the right for Compostable and Biodegradable Packaging information and ordering.