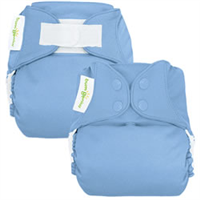 Product by:
BabyKind Ltd


Recently this nappy has become popular because of the highly adjustable and neat fit from birth to potty training and a Baby that has a problem in bedwetting (approx.8lb – 35lb/3.6kg-15.9kg).
BumGenius has a flexible size with built in waterproof outer cover and a fitted inner lining which form a pocket. An outer waterproof layer of polyurethane laminate (PUL) may be used. Polyester fleece and faux suede cloth are often used inside cloth Diapers as a "stay-dry" wicking liner because of the non-absorbent properties of those synthetic fibers that helps the baby's skin dry and comfortable anywhere. At the back of the pocket there is an opening into which permeable pads supplied with nappies are placed, the absorbency can therefore be customized to suit the baby and the occasion.
BumGenius v4 nappy is unique among pocket nappies because it has the Stretchy Lycra Wings to enable the nappy to be pulled close all around baby, this ensures a really neat fit, BumGenius is fasten either with hook and loop or pooper. The Hook and loop has excellent version for laundry taps to fasten the tabs to reduce the hook catching in the wash. The size of the nappy can be easily adjusted through a loop or popper on the front of the nappy.
BumGenius most recent release, the V4, is perfect for the larger size Babies because of the bigger fitting, comfortable for babies around 8 to 35 pounds. These nappies can help prevent rashes and give the baby a peaceful sleep because of the comfortable dryness.

Please use the Contact form on the right for Bumgenius V4 information and ordering.