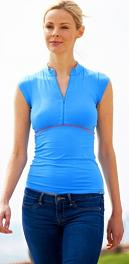 Product by:
Bynature


Comfortable fitted blouse that can change your looks and stable items for your closet that last for years.
This is one of our selling items that can be worn anywhere, casual top or during exercise.
BamWorkout-Top comes with a new cut; we have changed this Blouse to have a slightly less sticky-out fabric under arms, a minor change to our previous top which has been welcomed by our customers.
This top is made from BAM fabric (Bamboo viscose, organic Cotton and elastane) and comes in sizes 8 – 10 – 12 – 14 – 16. Normal washing is acceptable for item care but should not be bleached or tumbled dried.
BAM fabric is 4 times absorbent than cotton which keeps your body comfortable. It also inhibits the growth of bacteria which keeps the cloths smelling great for years. BAM fabric is famous for being comfortable, being softer and smoother than many other fabrics used for top manufacturing.
BAM is an eco friendly fabric since it is made from bamboo and the sustainable nature of bamboo growth.
• Bamboo is 100% natural and does not use any Chemicals to aid the bamboo growth.
• Bamboo does not require additional irrigation and grows perfectly with a natural amount of water delivered by rains.
• Bamboo grows in high density which means less land size is needed to grow.
Please use the Contact form on the right for BamWorkout Top-Malibu Blue information and ordering.