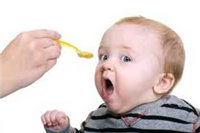 Product by:
So Baby Organic food


Gradually introducing our baby to solid Foods and reducing supply of mother's milk or formula can be very challenging. Weaning should be very easy and done in a natural way.
As recommended by the government, weaning usually starts when the baby is six months old and shows signs of being ready to move on from Breastfeeding or formula. At this stage, Babies will need more nutrients absent in milk.
Weaning and feeding baby can be very fun bonding opportunity if you already know what to do.
Every baby is different, so keep an eye on your baby at meal times and look for signs that your baby is ready for an adult diet.
So Baby Kitchens offers practical tips in weaning and feeding babies. You can start with our wide range of purees and very soft foods for the first couple of tries. We also offer practical info about storing, cooking and hygiene preparation.
Please use the Contact form on the right for Baby Weaning information and ordering.