Amla-Powder Conditioner 100g Product details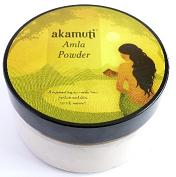 Product by:
Akamuti


Amla is an Ayurvedic Herb and also known as the Indian Gooseberry and famed for fabulous result on the Hair and skin tone. This berry has a high content of Vitamins C that is very nourishing, rejuvenating and longevity tonic and one of the ingredients found in Chyawanaprash. As a hair tonic and skin toner it promotes Healthy scalps and kills dandruff conditioner that encourages sleek and lustrous growth hair. This is herb is excellent for skin cleanser that leaves you Fresh and look young.
• Please note: if your hair was coloured please do a patch test prior colour before applying this product.
• Direction in use: Add amount of water to the powder to make it runny paste. Massage the paste into the scalp and hair and leaves it in 30mins for best result. Wash out thoroughly with water. for serious conditioning use a little castor oil or sesame oil on place of water and Rinse well and shampoo out.
• Price: £4.96
Please use the Contact form on the right for Amla-Powder Conditioner 100g information and ordering.